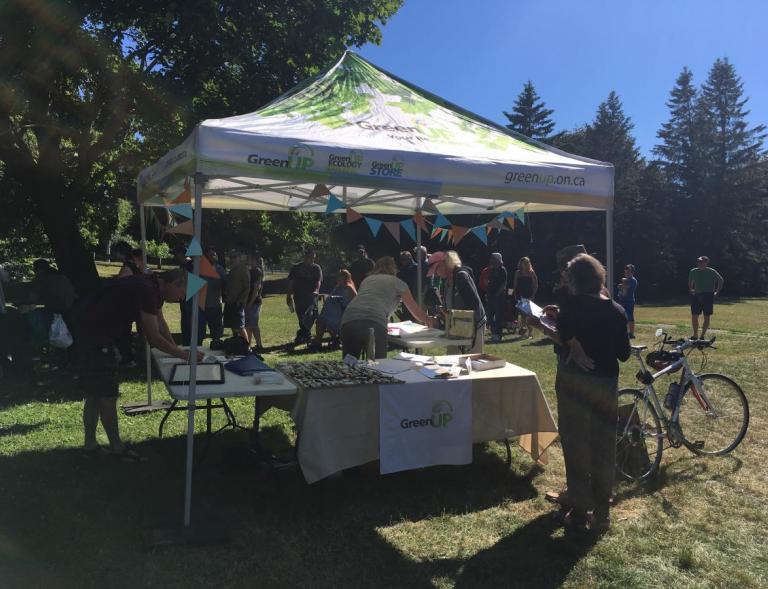 Ontario
Downtown Jackson Creek, Peterborough
Through a program known locally as NeighbourPLAN, GreenUP and the ANC team are working collaboratively with three Peterborough neighbourhoods between 2017-2020. Welcome to our second neighbourhood, Downtown Jackson Creek! You can learn about the first of the three neighbourhoods, Jackson Park-Brookdale, here.
A diverse and active community
The Downtown Jackson Creek (DTJC) neighbourhood is located West of downtown Peterborough, on Treaty 20 territory in the traditional territory of the Michi Saagiig Nishnaabeg. Downtown Jackson Creek is a dense and lively neighbourhood, located close to stores, shopping, restaurants, services, and more. The unique character of the community is influenced by the mixed land use and history of the area. The neighbourhood is home to some of the most notable architecture in Peterborough, including many churches, Hutchison House, and Cox Terrace. There are many natural assets in the community, including the Trans Canada Trail and Jackson Creek, which runs through the heart of the neighbourhood.
The neighbourhood is home to many seniors and young adults, and is a lower income community with a high number of people experiencing poverty. It is also an active neighbourhood - many people get around by walking, biking, and transit, although there are some areas in the community that lack safe infrastructure for active travel.
We have been engaging with residents in the neighbourhood since June 2018 through community BBQs, pop-up map chats, visits to retirement residences, exploratory walks, resident committee meetings, and more! We have engaged over 400 people who have contributed their thoughts to the Portrait of Downtown Jackson Creek, available in PDF format on this page. 
What's Next for DTJC?
Throughout summer of 2019, we will move into the visioning project phase in this neighbourhood. Residents have already been working to define guiding principles for the design of the public spaces in their community. Residents would like to see DTJC become more accessible, connected, community oriented, safe, vibrant & clean, and natural & green. With these principles at the heart of the design work, our next step is to plan a co-design workshop where residents and built environment professionals work together to propose innovative design ideas for the neighbourhood. 
Progress
DTJC Timeline
Spring 2018 | Initial Outreach & Project Launch
Summer 2018-Winter 2019 | Citizen Engagement
Spring 2019 | Portrait Launch
Summer-Fall 2019 | Vision Phase Citizen and Professional Engagement
Winter 2020 | Vision Launch