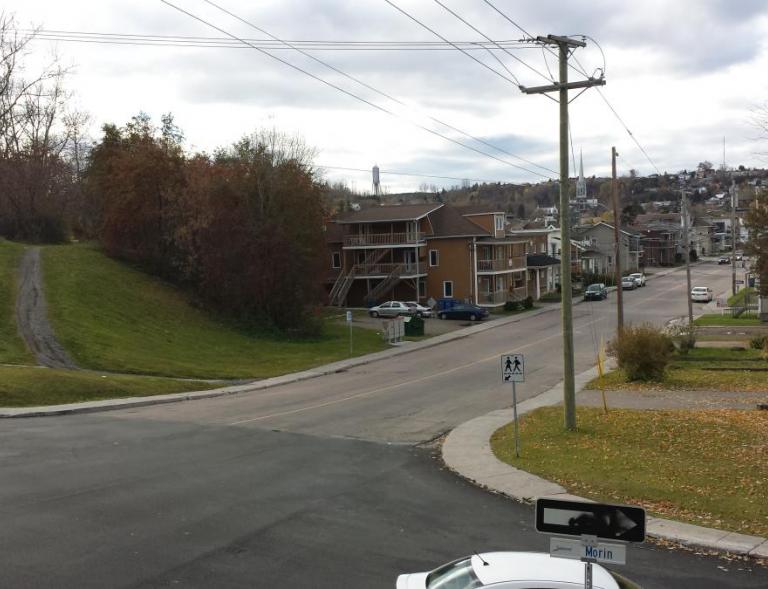 Saguenay
Thanks to a combined approach of participatory and tactical urbanism, citizens were able to reclaim a former railway line, the Traverse du Coteau, by carrying out temporary interventions with the support of the municipality.
Highlighting a pedestrian path
In the late 1980s, the former Canadian National Railway ceded land to the Ville de Saguenay. Passing through downtown Chicoutimi, the land offers beautiful views of the city and provides access to many destinations of interest. Although it is partially transformed into a pedestrian path, the route is still interrupted by many intersections that are unfriendly for pedestrians. It is rugged and lacks lighting, which limits its use in the evening and in winter.
In this project, we collaborated with the District 11 Council. This partnership developed because of a promise made by an independent municipal councilor elected in 2013 to prioritize citizen participation. The councillor's commitment to citizen participation allows citizens to participate in the City's investment decisions and direct actions to improve the living environment of the district, through tools such as participatory budgeting.
The idea of planning developments and enhancing this pedestrian pathway by involving citizens in the ownership of the site has become a priority. With our support, a linear park committee was created, bringing together City organizations, District 11 Council citizens and representatives of community organizations, including Eureko!
Tactical urbanism: an essential tool
A vision exercise allowed citizens to express the elements that nourish their sense of belonging in the community and to voice their wishes for the linear park. As a result of the vision exercise, the City financially supported several citizen interventions and a community organization. It is important to highlight the remarkable work of the municipal councillor. Involved in the project from the beginning, the partnership with this councillor shows that if decision-makers surround themselves with citizens and civil society organizations, inspiring participatory projects are possible. It is by anchoring the application of the principles of participatory urban planning within the city itself that these practices will become the norm!
Progress
Reinventing a former railway line with tactical urbanism
Start, creation of the working committee and training
Participatory activities
Clean-up activities
Citizen call for projects "Transforme ta Ville"
Inauguration of the Traverse du Coteau
Adoption of a Master Plan for Parks and Green Spaces
Start-up
Day of reflection on participatory democracy
Participatory activities
Tabling of recommendations
Adoption of the Master Plan