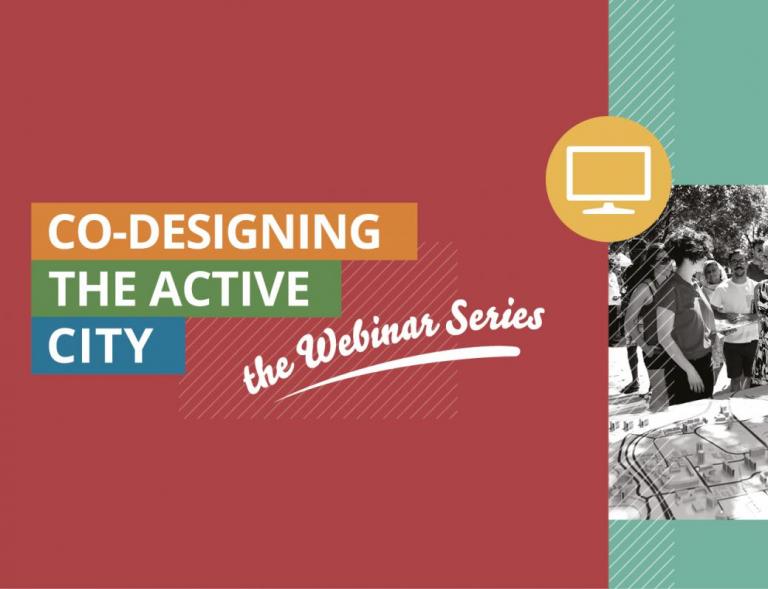 A webinar series on co-designing the active city
Montréal, May 30th, 2019 – The Active Neighbourhoods Canada partnership is launching a webinar series that will provide professionals and decision-makers with key tools for planning and developing healthy communities across Canada. Six webinars, three in English and three in French, will be available for free from mid-June to early November. These webinars will address the participatory planning approach developed by the Active Neighbourhoods Canada partnership, which engages citizens and professionals in building healthy and equitable communities. The series will also introduce tools to implement the participatory planning approach and showcase inspiring projects and policies.
The built environment has a significant impact on the health of citizens. Moreover, not all citizens have access to quality environments. For example, in Calgary, neighbourhoods with lower household incomes are correlated with more pedestrian collisions.
In response to these challenges, the webinar series will address issues such as:
Do the planning and transportation in my municipality have an impact on the residents' health?
How can I identify jurisdictional issues and find solutions in collaboration with all stakeholders?
What are the inspiring examples of co-design projects from other Canadian cities that can inspire my practice?
These webinars are inspired by the array of tools developed, implemented and evaluated by the Active Neighbourhoods Canada partnership in 12 Canadian rural and (semi) urban communities over the last 10 years. Each webinar will last one hour, includes case studies and a question and answer period for participants.
Registration is free and is available on our project website: ParticipatoryPlanning.ca.
1st webinar:

Participatory urban planning: an approach to foster the development of healthy built environments
Wednesday, June 19, 2019, 1:00 PM (ET) (French) 
Wednesday, July 10, 2019, 1:00 PM (ET) (English)
2nd webinar: How to put participatory urban planning into practice?

Wednesday, August 28, 2019, 1:00 PM (ET) (English) 
Wednesday, September 18, 2019, 1:00 PM (ET) (French)
3rd webinar: Public policies and development projects putting health equity at the forefront

Wednesday, October 30, 2019, 1:00 PM (ET) (French)
Wednesday, November 6, 2019, 1:00 PM (ET) (English)
The webinar series will be added to the toolkits already available on ParticipatoryPlanning.ca, the flagship portal on participatory planning for municipal professionals and decision-makers in Canada.
About Active Neighbourhoods Canada
Since 2009, Active Neighbourhoods Canada has been working to develop, lead, enhance, and share innovative approaches to co-designing green and healthy neighbourhoods. The initiative is jointly supported by the Montréal Urban Ecology Centre (MUEC), The Centre for Active Transportation (TCAT) and Sustainable Calgary (SC) and funded through the Public Health Agency of Canada.
-- 30 --
For further information: Susie Larrivée, Communications Projet Manager Montréal Urban Ecology Centre 514 282-8378 extension 227 communications@ecologieurbaine.net