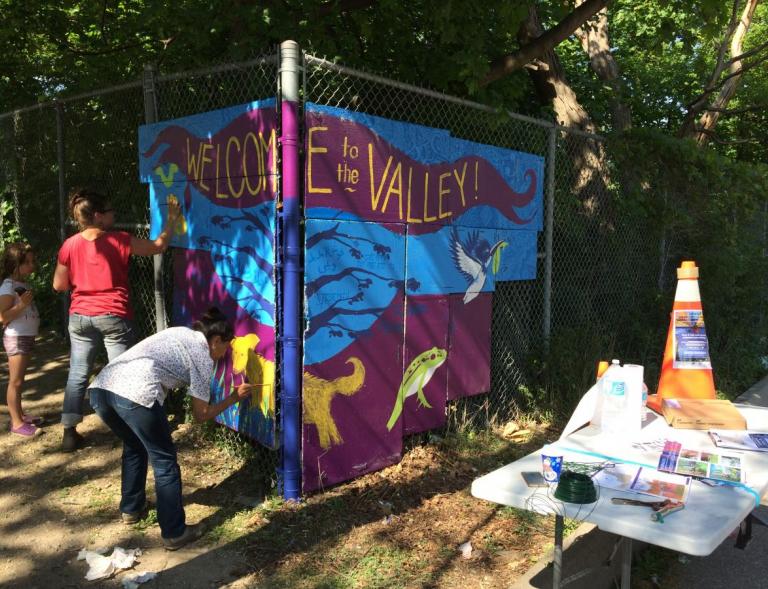 Toronto
Thorncliffe Park & Flemingdon Park, Toronto
The example of Thorncliffe Park and Flemingdon Park demonstrates that a neighbourhood that is dynamic, committed, and motivated is contagious!
Tangible results, thanks to collaboration
Thorncliffe and Flemingdon were planned communities, completed in the late 1960s. These inner suburbs are northeast of the Toronto core and they sit on either side of the Don Valley Ravine. Most residents live in towers that overlook the greenery. Thorncliffe and Flemingdon are diverse neighbourhoods that serve as landing pads for new Canadians. Most residents have lower than average income and few have access to automobiles.
In Toronto, we teamed up with the Flemingdon Health Centre and the STEPS youth program Toronto Emerging Artivists, as well as a series of ad-hoc partners in an effort to understand the experience of public space in these tower neighbourhoods.
Based on the demographics of the neighbourhood, we made an effort to reach out to youth and new Canadians as two typically underrepresented groups.
Linking local voices with federal spending
In Thorncliffe and Flemingdon, we hosted extensive engagement activities to collect diverse opinions on travel patterns. We also convened a community mapping team that collected information on the experience of public space. The feedback was summarized in a portrait presented to local experts for design ideas. We hosted a series of citizen response kiosks to validate the ideas and created an active neighbourhood plan based on the dialogue.
We hosted a young urbanist summer camp and helped residents paint local murals that highlighted important pedestrian connections to the Don Valley Ravine. Finally we obtained additional funding to produce a temporary "Town Centre" pavilion that was designed by community members through participatory workshops.
By establishing connections between residents and City staff, the neighbourhood was recognized as a key location for targeted federal transportation spending, and new bike infrastructure will be installed in the neighbourhood in coming years.