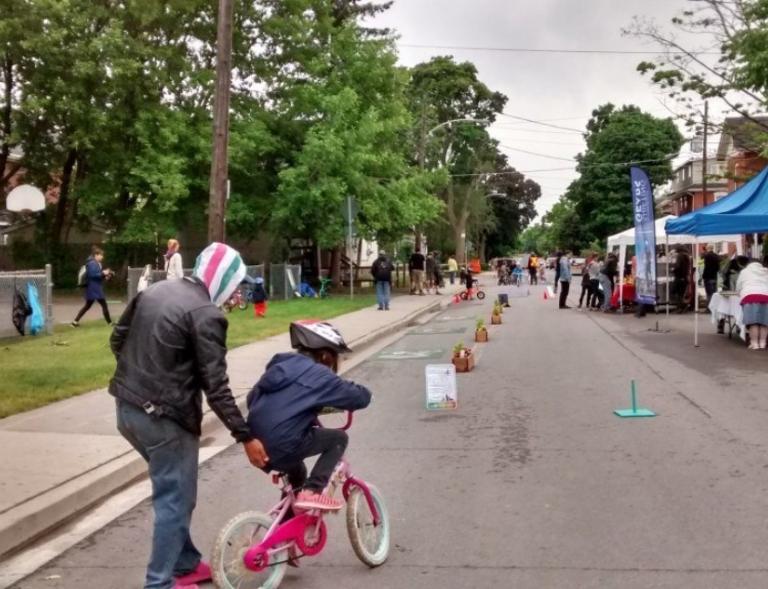 Peterborough
Stewart Street Neighbourhood, Peterborough
Intersectoral work in Peterborough has shown that developing trusting relationships among stakeholders with seemingly opposing interests takes time and can be challenging, but leads to strong outcomes.
Residents who embrace their neighbourhood
We undertook the Stewart Street Active Neighbourhoods project collaboration with our local Peterborough partner GreenUP and an intersectoral committee comprised of neighbourhood residents, diverse NGOs and the City of Peterborough.
The history of the Stewart Street neighbourhood in downtown Peterborough begins during the "Gilded Age" of the early 20th century when the area had several large industrial employers. In the 1980s, the neighbourhood started to show signs of economic decline but, in recent years, residents have started to take charge of their community.
It all started with an under-used park and a simple question: "How can we get neighbours to talk to each other more often?" The answer was short and to the point: "Meet your neighbours through a new community garden, and bring life to this homegrown gathering place." This community garden became a jumping-off point for resident-led enhancements to public space and inspired residents to connect with a local NGO (GreenUP) to initiate an Active Neighbourhoods project.
Together, the ANC project committee used different engagement tools to develop a thorough understanding of residents' use of public space and their priorities. Over 250 people participated in community asset mapping, a survey of local travel habits, design workshops, and conversations out in the neighbourhood during local events. Through this engagement, a key street in the neighbourhood, Bethune Street, emerged as the primary area of focus. Bethune Street is both an important cycling route and a corridor in need of significant repair. The street is scheduled to be redeveloped as a part of the City's flood reduction plan, with construction beginning in early 2018. Because of the opportunity to align resident priorities with this upcoming municipal investment, Bethune Street emerged as a key focus area for our Peterborough project.
Combining resident and professional expertise
The next major challenge was to link up the documented resident priorities with the official consultation process launched by the City for the revitalization of Bethune Street. The Peterborough project brought a central principle of the ANC project approach to the fore: the importance of connecting different people and sectors, facilitating collaboration among a wide range of groups and professionals involved in a project. The City's consulting team for the Bethune Street redevelopment project participated in our ANC design workshops and, likewise, the City invited the ANC project to share resident design visions at their official public consultation sessions.
Ultimately, resident-identified design priorities formed the backbone of the new streetscape. When the build out will be complete, the Bethunescape will be a linear-park Complete Street that is unlike any other in the region. Construction on the corridor will begin in early 2018. We are excited to see residents' visions come to life!