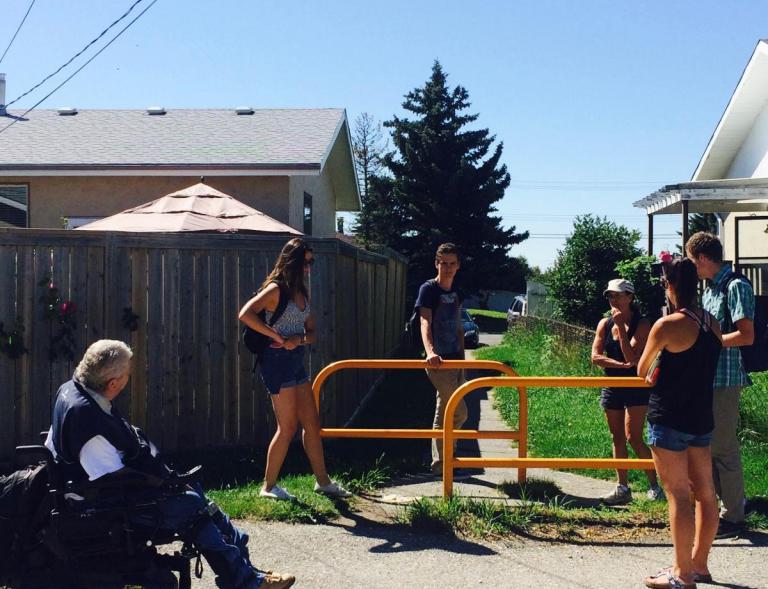 Marlborough
The example of Marlborough shows us that involving residents in the design of their neighbourhood not only strengthens feelings of belonging, but also highlights issues that may not have been obvious before.
Marlborough is many places to many people: home to non-profits, international restaurants, shopping destinations, a transit node, and just under 9000 residents.  It boasts ample green space, proximity to downtown, a strong sense of belonging and an active community recreation centre. Historically, Marlborough has faced a higher than average crime rate, but substantial work has been done over the years to make the neighbourhood safer for all and residents have a strong sense of belonging to the area.
Citizen participation to reach all members of the community
Active Neighbourhoods has been partnering with the Marlborough Community Association since June 2015. The approach in Marlborough was to spring-board off of the City of Calgary's This Is My Neighbourhood initiative, which documented resident priorities for improving the neighbourhood. We decided to develop a better understanding of this priorities spatially working with the hardest-to-reach residents. Teachers and students supported us in developing tools to communicate with people learning English as a second, third or forth language. We collected information through community bike rides and walks, door-to- door surveys, community mapping, location observations, accessibility and emotional walk audits, photo surveys and short interviews. We used local activities such as the Calgary Immigrant Women's Association's to speak with residents about their experience.
One of the priority issues identified in the neighbourhood was related to its "catwalks", a network of pedestrian pathways connecting parks and schools. Pedestrian networks such as these are rare gems in Calgary. However, the pathways are unlit, and receive variable levels of maintenance and some residents choose not to use them at night for safety reasons. Feedback from residents, businesses, commuters, and schoolchildren drawn attention to a diversity of "hot spots" in the neighbourhood. These hotspots highlight the good and the bad: vibrant gathering spaces at the local mall, which some have frequented for decades, but missing bus shelters and pedestrian connections; ample green spaces, but underused and lacking in programming for people of all ages. All this work led to a better understanding of the realities of immigrant life in the neighbourhood. In 2016, students from NHTV University (Breda) gathered information on the neighbourhood, and developed detailed design recommendations for Marlborough.
As a member of the organizing committee for the Walk 21 conference, SC has suggested a design competition be held to rethink the area's catwalks and start a conversation on how they are managed. Fellow collaborators have expressed interest, but there is still work to be done before the initiative can come to fruition.