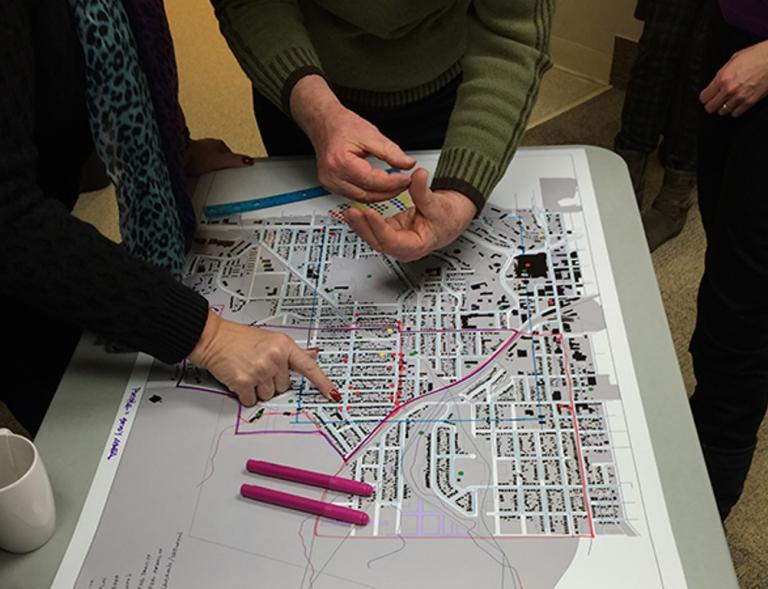 Greater Sudbury
Donovan Neighbourhood, Greater Sudbury
The Donovan Neighbourhood has a vision: to increase sense of community among residents and build neighbourhood pride by becoming a model for active transportation and healthy living.
Challenges on the horizon
As one of Sudbury's older neighbourhoods with a rich heritage of multiculturalism, Donovan is a unique neighbourhood. Located to the northeast of downtown Sudbury, the neighbourhood has small lots and narrow alleyways that are unusual for Sudbury, making this an intimate neighbourhood with a village-like feel. The commercial portion of Kathleen Street is the heart of the community, with popular stores and restaurants, and a vibrant energy.
Based on these observations, in 2016, TCAT and Active Neighbourhoods Canada, in partnership with EarthCare and the City of Greater Sudbury, launched consultations with stakeholders with the aim of producing a strong vision that could improve public spaces and walkability and make Donovan a neighbourhood built for active transportation. This vision can help form a basis for any future Community Improvement Planning (CIP) implemented by the municipality. The goal with this project was to build a rich and accessible participatory process that reaches diverse resident voices.
Opportunities for enhanced public space
In the Donovan Project, we surveyed over 100 people in the neighbourhood to get an idea of residents' experience of using the streets and to understand barriers to active forms of transportation. We also worked with residents and stakeholders to set key criteria for enhanced public space, which focused on the themes of comfort, enjoyment and protection.
The results of this engagement indicate that the neighbourhood's dynamic character can be built on with several low-cost design and programming solutions to support the community's desire to become healthier and more active.
By continuing the conversation with residents and embracing this movement for change, the Donovan neighbourhood could become a model for the prioritization of active transportation.