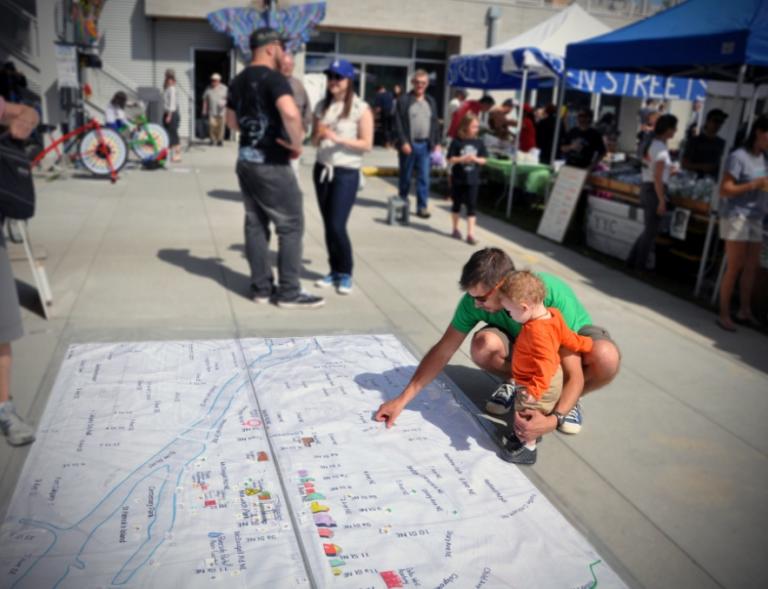 Bridgeland-Riverside
Bridgeland-Riverside, Calgary
The Bridgeland-Riverside neighbourhood in Calgary is a great example of the snowball effect that can happen when passionate residents and local leaders work together, and build upon each other's good work.
Located to the immediate northeast of downtown Calgary, Bridgeland is a neighbourhood in flux. It is currently experiencing substantial population growth, a surge in multi-family housing developments, and growing numbers of young children, millenials, and boomers.
Mobilization pays off
By reaching hundreds of people, business owners, and 22 organizations, Active Neighbourhoods helped spark significant mobilization in the neighbourhood. Collaboration with these groups and individuals over the course of a few years helped the community realize that it now had the data it needed to take action.
Since 2013, the Safer Calgary Coalition has been organizing the annual Safe and Smooth Symposium. In 2015, Bridgeland was featured as the case study for this conference. On this occasion, the City of Calgary volunteered to install pop-up traffic calming measures. In one intersection in Bridgeland, it was possible to host a full-size street hockey game without impeding vehicle traffic. As a result, the City announced that the greater part of the street would become a permanent park the following year.
The Women's Centre in Bridgeland organized a Women's Safety Walk in 2015 that has since become an annual activity. The walks help identify locations and design features reducing women's safety and lead to recommendations to appropriate decision-makers. Senior citizens groups lead a seniors walk audit and producing a report on their needs and challenges.
Some benefits from these mobilizations can already be quantified. Bicycle lanes have been installed to create much-needed connections to the downtown core. The East Riverside Master Plan was drafted for the southeast part of the neighbourhood, which houses many elderly residents who felt isolated from the rest of the community. The City of Calgary organized design charrettes to revitalize an intersection identified as having safety issues. These last two activities focused on the four places identified as high priorities by Bridgeland residents during a design workshop organized by Sustainable Calgary.
Proof that mobilization works and helps residents put their concerns on the agenda.