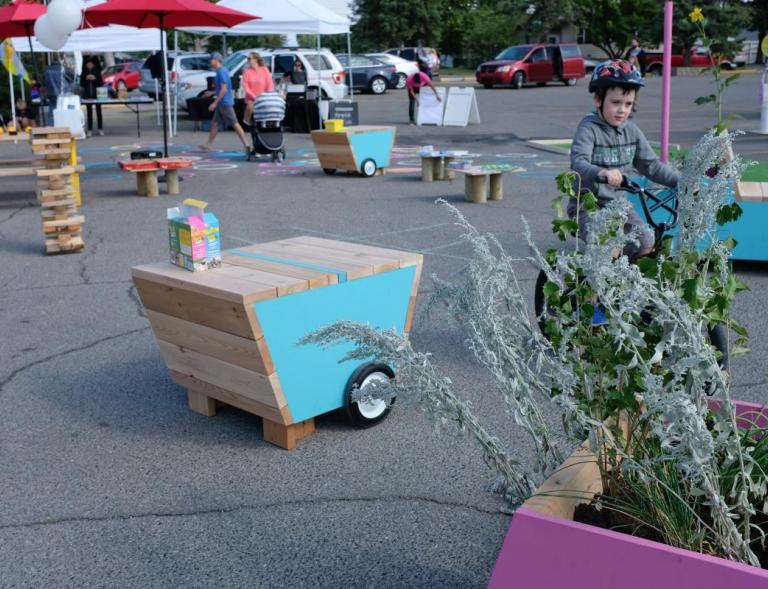 Acadia
A significant portion of the Acadia's residents are vulnerable and non-motorized road users. However, there are few pedestrian and cycling facilities in the neighbourhood. Pop-up traffic-calming measures showed immediate success.
Acadia is a neighbourhood of about 10,000 residents in southeast Calgary, tucked between the Bow River and the Glenmore Reservoir. It has the city's largest concentration of educational institutions, several retirement homes, and a high proportion of seniors. In Acadia, many residents are less likely to be drivers, and are considered vulnerable road users. Nonetheless, local infrastructure limits safe pedestrian and bicycle access to amenities, and—due to features such as wide vehicle lanes—encourages speeding and unsafe behaviour in drivers.
Rethinking the city for its most vulnerable users
In Acadia, Sustainable Calgary partnered with the Acadia Community Association (ACA), Safer Calgary, the Spinal Cord Injury Alberta, the City of Calgary and students from University of Calgary and NHTV Breda University (in the Netherlands) to better understand Acadia's public spaces. We collected information in a number of ways. A travelling map of Acadia and door-to-door surveys invited residents to reflect, provide feedback and chat about their experience. We teamed up with the Spinal Cord Injury Association for an accessibility walk audit, providing feedback from the perspective of sight, hearing and mobility impairments. We presented our preliminary findings and design concepts for resident feedback and voting at the 2016 Neighbour Day celebration. During Safer Calgary's Safe and Smooth Symposium, the City of Calgary became involved to implement and test pop-up traffic-calming measures.
Given the success of these temporary measures, the ACA, Sustainable Calgary and their partners are now pursuing further short- and mid-term projects in the neighbourhood.