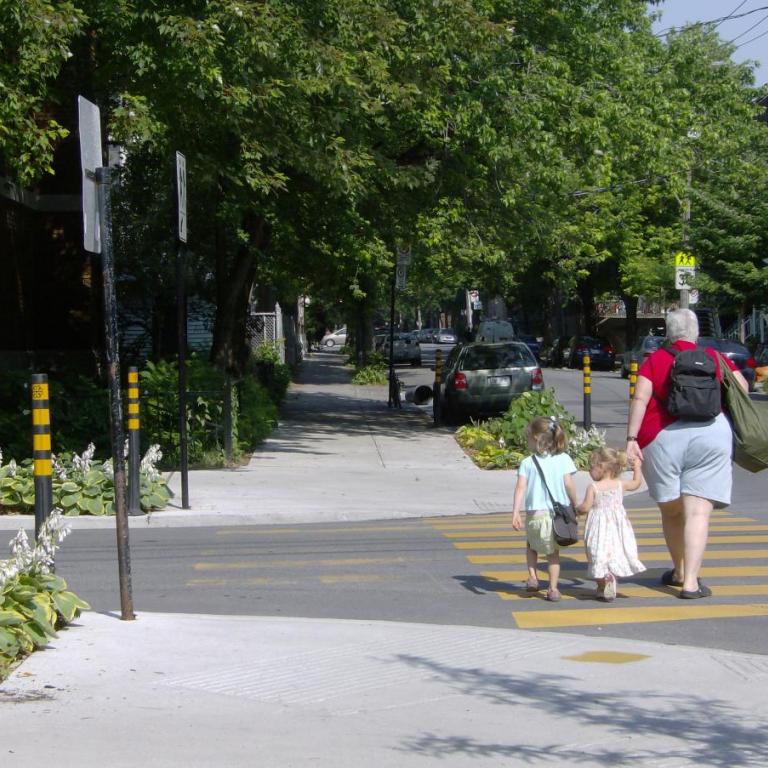 Phase 5
Implement the design solutions and advocate for citizen visions. 
WHAT?
All project stakeholders are impatient to get to the implementation phase. It is the climax of their many participatory efforts to raise awareness, generate ideas, cooperate and plan. It is the time to take action in the field. Finally, the promising solutions have been identified, and implementing them is an inspiring, stimulating step.
The implementation of major projects is done gradually, until all users and stakeholders are satisfied with the final results. The Act phase can last from a few weeks to several years, depending on the complexity of the issues and the scale of the work to be done.
This phase may involve planting flowers or shrubs to begin greening a public place or implementing traffic calming measures. For traffic calming, it may be appropriate to start with a pilot project or temporary measures. Temporary measures are simple changes that are inexpensive, easy to implement and reversible, such as painting lines and installing giant flower pots or movable bollards. This tests the effectiveness of the implemented measures and increases their chance of being accepted by the public before significant investments are put into making permanent changes.
Ensure implementation is monitored
For projects where implementation is a long-term project (e.g., street redesign), a project monitoring structure should be put in place. This can be done by creating a monitoring committee made up of elected officials, municipal professionals, citizens, and other stakeholders from the participatory process. The committee will be mandated to establish an implementation plan to ensure that it advances and matches the proposals made during the planning process. The committee will also be responsible for communications related to the project. It should also develop mechanisms to collect user feedback in order to understand how citizens feel about the changes made
WHY?
Transform the vision developed by all stakeholders of the different project phases into a reality.
Correct situations identified as problematic by participants.
Try out temporary measures or pilot projects in the field to find out whether the proposed solutions meet the needs expressed by users and make corrections if necessary.
WHO?
Different stakeholders are involved in project implementation depending on the type of project and setting. For greening projects, citizens can play an active role with project leaders to prepare the site and do the planting. This helps ensure that citizens take ownership of and maintain the new landscape design. Citizens can also be actively involved in projects in public places, e.g., the creation of a mural.
In the case of large-scale projects involving construction or major work (e.g., real estate development, modification of a street configuration, conversion of a public building) decision makers and urban planning professionals are responsible for implementation. It is up to them to establish, with project partners, the implementation plan, which includes the budget and schedule of completion. Making public commitments is a way to help maintain citizen mobilization.
HOW?
Planting and caring for planted areas
Public commitment by decision makers
Creation of an implementation/monitoring committee
Adoption of a resolution by city council confirming resource allocation
Completion of pilot projects or temporary measures
Permanent implementation of designs