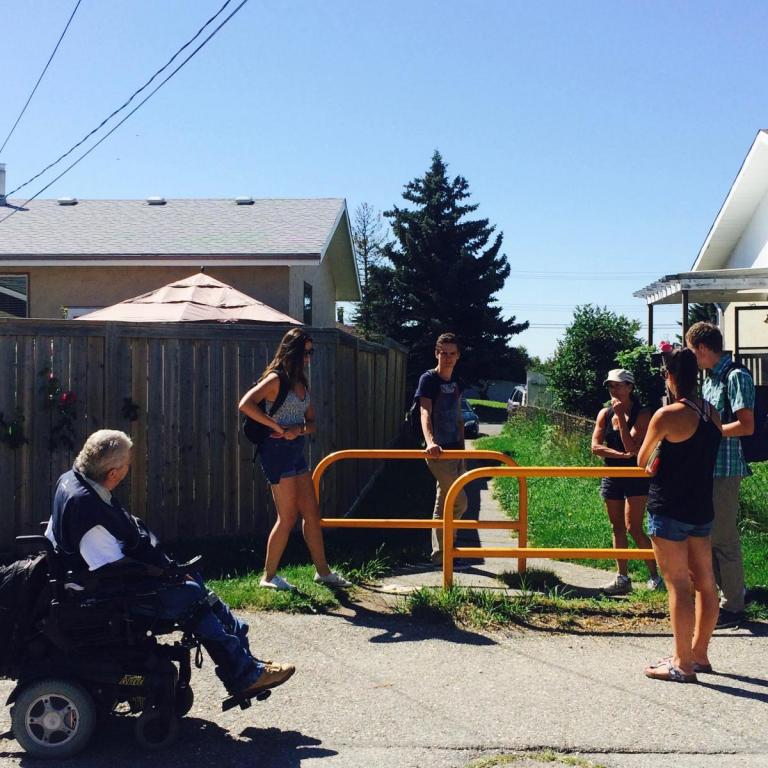 Phase 2
Create a diagnostic portrait of the use of public space.
WHAT?
Now that the project has been launched, the time has come to create a diagnostic portrait of the project area. Its purpose is to highlight the key issues and list findings that can be used to guide design solutions. During this phase, the contributions of citizens, civil society groups and urban professionals are used to collect various kinds of information and establish a reliable portrait.
Data collection
In most cases, existing data constitute an excellent basis for understanding the neighbourhood. The first step is to research, collect and organize the information so that it can be of use to the project. It may be socio-demographic data and other types of statistics previously collected by different stakeholders, or studies and plans completed during the last few years.
It is necessary, however, to collect data specific to project issues to supplement existing information. Collection methods may take the form of field studies (see box) or participatory activities bringing together citizens, representatives of community organizations and local professionals. Their observations and anecdotes as users of the area are collected.
Quantitative data are necessary to compare sites, problems and scenarios objectively. They are particularly useful to convince people who prefer to trust "the numbers." Qualitative information can enrich the data, especially on diversity of uses and points of view. The combination of both types of information allows you to build solid and balanced arguments.
Understand the use of public space through field studies
Primarily quantitative data collected through field studies are used to support the findings and requests expressed during the participatory activities. During field studies, you will observe, count, compile and document to assess preliminary findings and supplement the qualitative data.
Here are some examples of actions done as part of a field study:
Pedestrian and cyclist count
Profile of public space users
Audit of pedestrian potential
Evaluation of the greening potential
Practical tips
To avoid repeating work, contact other local stakeholders to see if they have created portraits for the same project area that may be useful for you.
You can take advantage of participatory activities to collect a list of potential participants for later phases.
WHY?
To promote a common understanding of the issues in the project area;
To create documents that are accessible for everyone and record and organize findings about the project area (e.g., diagnostic portrait, public presentations, photos and videos);
To identify priority actions and key places to guide the development of appropriate solutions.
WHO?
Project area citizens;
Local community groups representing the entire community;
Representatives of schools and public health;
Store owners and other economic stakeholders;
Professionals from various spheres (urban planning, transportation, urban design, landscape architecture, sports and leisure, social development, etc.) who are with the municipality or a public agency and have the power to intervene in the area;
Municipal elected officials, whose understanding of the issues and citizens' needs is essential.
Participatory activities may be limited to certain groups when focused on a particular issue or place (e.g., an exploratory walk with seniors, youth activities).
HOW?
Here are the recommended steps for guiding your actions in the Understand phase. The importance given to each step can vary with the context, but the order should be followed.