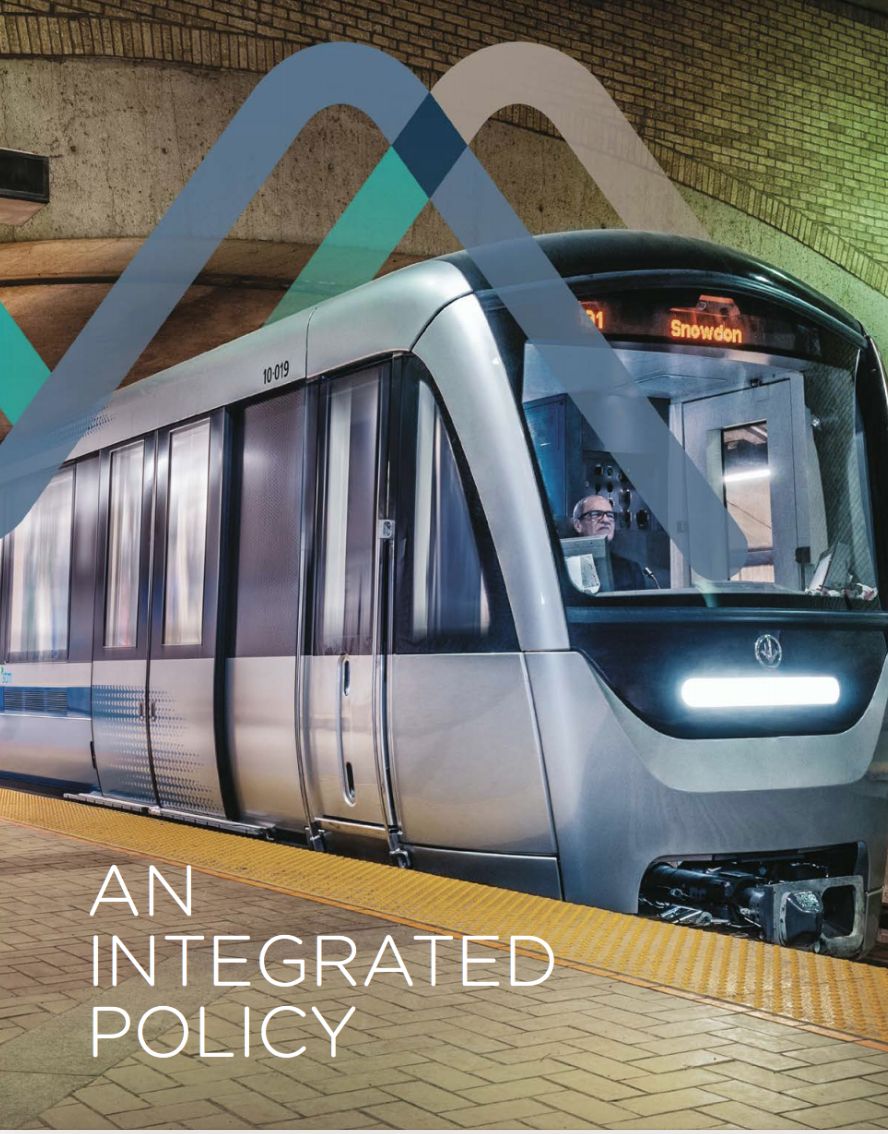 Quebec
Contributors
Organizations representing all transportation modes and expertise in sustainable mobility in Quebec, municipal bodies and other departments and bodies of the government of Quebec. For a complete list refer to pages 94 to 119 of the 2018-20123 Action Plan.
Quebec's Sustainable Mobility Policy
A vision of mobility oriented to the needs of citizens and businesses
"[Québec] will have a high-performance, safe, connected and low-carbon transport ecosystem, which contributes to Québec's prosperity and meets the needs of citizens and businesses" (Gouvernement du Québec & ministère des Transports, de la Mobilité durable et de l'Électrification des transports (MTMDET), 2018, p. 6).
Mobility questions addressed from an ecosystem perspective
On April 17, 2018, the government of Québec unveiled its Sustainable Mobility Policy (SMP) 2030: Transporting Quebec Towards Modernity, and its 2018-2023 Action Plan to make Québec a North American leader in sustainable and integrated mobility by 2030.
The STP prioritizes people and businesses, and focuses on how a more sustainable transportation system can meet their needs. [The diagram on page 7 of the Sustainable Mobility Policy 2030 illustrates this transportation ecosystem.] It was developed to address the challenges faced by citizens when using the transportation system: social issues related to public health, public safety, vulnerable persons with mobility issues and disabilities, as well as access to sustainable transportation options; environmental issues stemming from land use and energy efficiency of vehicles; and economic issues related to the function and accessibility of the transportation system as well as worker availability and training.
Ten clear targets were created to measure progress in these three areas:  
More options – 70 per cent of the population will have access to at least four sustainable mobility services.
Shorter travel times – 20 per cent reduction of the average travel time between home and work.
Safer roads – 25 per cent reduction in . fatal accidents and those involving serious injuries compared to 2017.
Fewer solo car trips – 20 per cent reduction of solo car trips throughout Quebec.
Limited consumption of fossil fuels – 40 per cent reduction of petroleum consumption in the transportation sector below the 2013 level.
Reduced greenhouse gas (GHG) emissions– 37.5 per cent reduction of GHG emissions in the transportation sector below the 1990 level.
A strong and innovative industry for sustainable transportation and mobility equipment - $15 billion in annual sales for the Quebec land transportation equipment sector.
More competitive businesses by increasing the use of different transport methods and integrated transport systems - 25 per cent increase in how many tons of freight is transferred in Quebec ports and rail centers with other forms of transportation.
Businesses less affected by road congestion – reduction of costs associated with congestion for businesses in the Montreal and Quebec metropolitan regions.
Households spending less money on transportation - 20 per cent less household expenses going towards transportation costs.
Prioritize actions through "Reduce-Transfer-Improve" approach
The STP takes a "Reduce – Transfer – Improve" (RTI) approach to influence transportation demand, in priority sequence:
Reduce motorized trips or distances to meet the needs of people with different mobility needs by integrating land use and transportation.
Transfer trips to transportation options that consume less energy to lower GHG emissions, such as public transit and active transportation.
Improve the efficiency of vehicles by reducing their carbon footprint, but also improve trips in terms of costs, quality and safety (Gouvernement du Québec & MTMDET, 2018, p. 24).
The intervention priorities set for 2030 are organized into five categories with associated funding and action items: :
1. Meet the needs of citizens in municipalities.
Favor integrated planning of land use and urban and regional transportation ($122.2 million)
Make urban public transit more attractive and competitive ($1,594.7 million)
Improve the attractiveness of regional and intercity transit ($142.8 million)
Create trips for people with reduced mobility ($647 million)
Support new mobility, innovation, and integrated systems ($44 million)
2. Develop high-performance transport services for businesses
Establish integrated networks ($861.1 million)
Support workforce training ($1.1 million)
3. Develop transportation infrastructure favouring sustainable mobility
Structure projects in public transit ($13,525 million)
Invest in infrastructures that favor public transit and active transportation ($405.6 million)
Maintain road, rail, port and airport infrastructure ($1,506.2 million)
Support transportation safety ($500.4 million)
4. Promote electric energy-efficient vehicles
Continue transportation electrification efforts ($164.9 million)
Develop charging stations for vehicles ($13.4 million)
Develop different forms of energy ($13.6 million)
Use energy-efficient vehicles for freight transportation ($93.3 million)
5. Become leaders in sustainable mobility
Support land transportation equipment industry ($113.9 million)
Encourage research and development ($111.4 million)
Improve the planning process of transportation projects ($16.1 million)
Nice work Quebec!