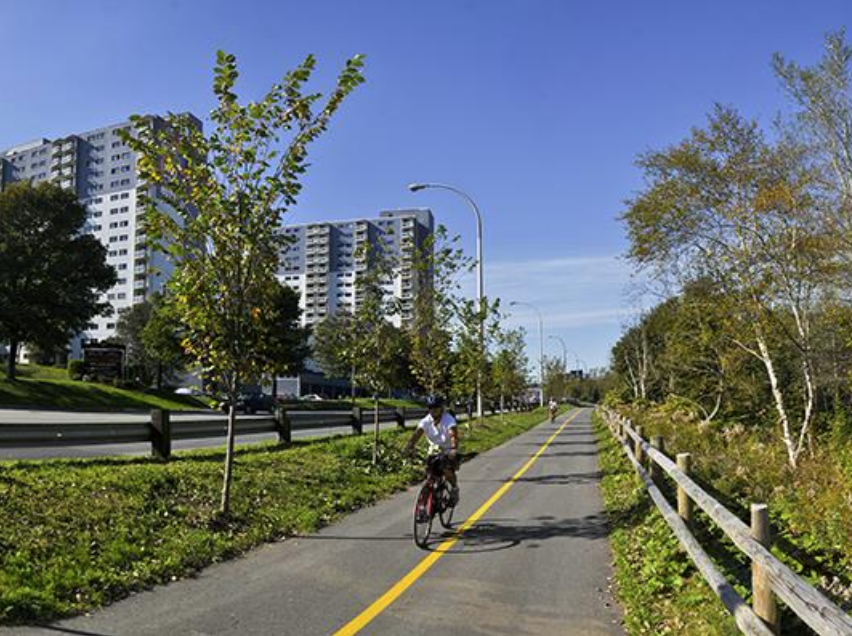 Nova Scotia
Contributors
Collaborators: Halifax Regional Municipality staff, Ecology Action Centre, Nova Scotia Department of Transportation and Infrastructure Renewal, Halifax Regional Trails Association, Halifax Cycling Coalition.
Making Connections – 2014-19 Halifax Active Transportation Priorities Plan
An integrated plan for healthy active transportation
"The Active Transportation Plan attempts to bring all aspects of active transportation into one document with the goal of creating an integrated network. Prior to 2006, sidewalks, trails, and bicycle lanes all happened in relative isolation and the need for a coordinated approach was evident" (HRM, pg. 7).
Vision for a regional greenway and bicycle network
This Plan outlines where and how the municipality plans to build new active transportation greenways, sidewalks and bicycle facilities. It includes a vision for a regional greenway and bicycle network throughout the municipality. Its rationale includes benefits associated with active transportation, including: enhanced quality of life, mobility, health, environment, recreation, and economic benefits.
The Plan has the following vision: "Develop a region-wide, visible and connected Active Transportation network of on-road and off-road facilities that are convenient, accommodate the needs of existing and future users and promote an increase in non-motorized vehicle travel, particularly for short distance trips. This network will be supported by various programs, policies and strategies that will help and encourage Active Transportation year-round, and improve the quality of life for both residents and visitors to the area and make HRM one of the most desirable municipalities in which to live, work and visit in North America." (HRM, pg. 7)
Funding for the project will be negotiated from the City's annual budget, and may be accessed from other sources, such as the Trans Canada Trail Foundation.  
Engagement, progress review and future priorities
To ensure implementation is reflective of stakeholders' and the public's vision, the Plan includes three main objectives of:
     1. An engagement process. 
     2. A progress review.
     3. The setting of future priorities, which focus on connecting existing infrastructure, developing active transportation networks, and making active transportation accessible to a large proportion of residents.
Since 2014, 4 km of painted bike lanes and 1.4 km of separated bike lanes have been added in the municipality as a result of this plan. This brings the total length of bike lanes in the municipality to 63 km. Spinning off of this plan, Council adopted an Integrated Mobility Plan in 2017, which led to a target to build an All-Ages-and-Abilities Cycling Network for the Regional Centre by 2022. Several bikeway projects are now under construction as a result, including: the South Park Street Bikeway Enhancement and Extension, the Seymour Local Street Bikeway, the Allan/Oak Street Local Street Bikeway, the Ahern Multi-use Pathway and the Barrington Greenway Extension.
We love your commitment to accessibility, Halifax!