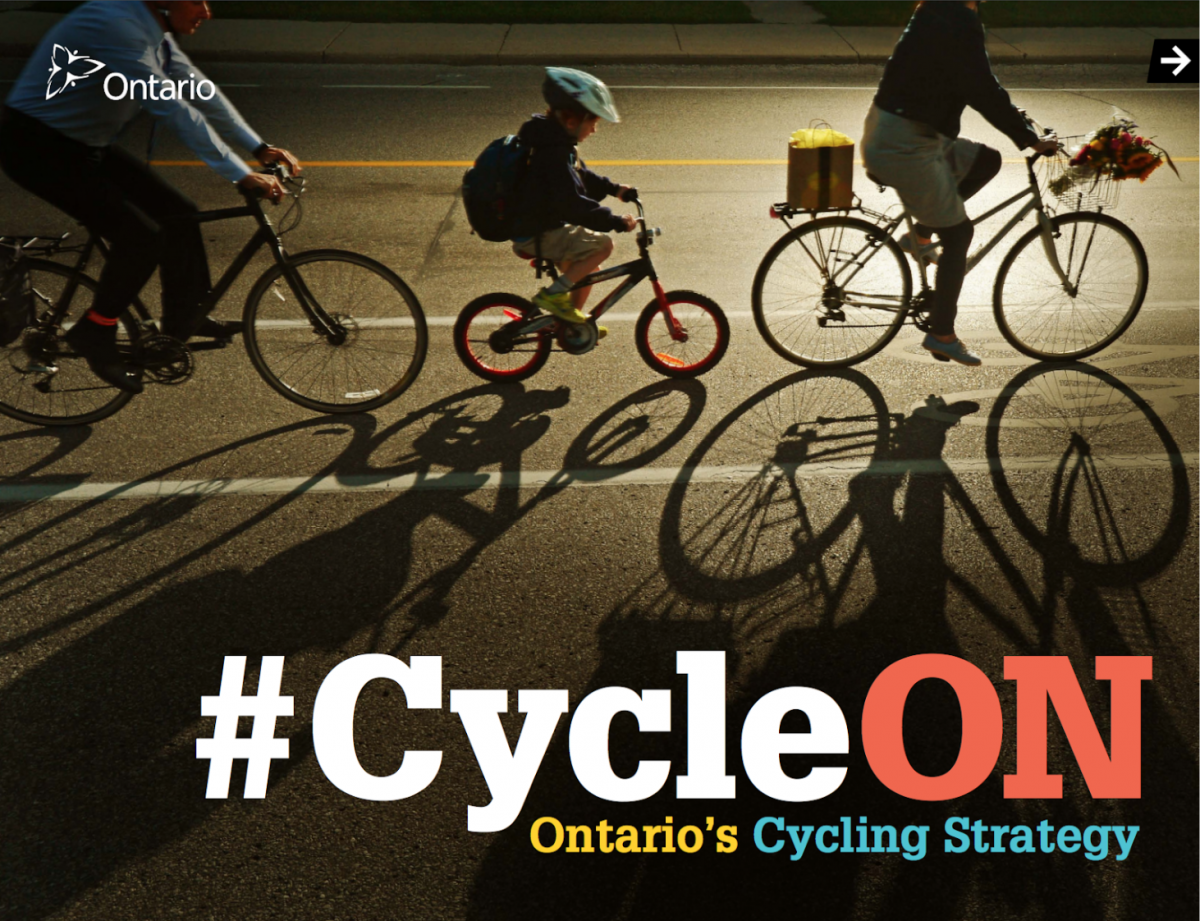 Ontario
Contributors
Ministry of Transportation; Ministry of Tourism; Culture and Sport; Ministry of Education; non-governmental organizations.
#CycleON: Ontario Cycling Strategy
Multiple benefits, for multiple stakeholders
"Cycling is a core part of Ontario's transportation system and is integral to fostering healthier and more prosperous communities. Increasing cycling opportunities in Ontario offers many benefits, including improved well-being, lower rates of chronic conditions and reduced health care costs as a result of active living, reduced traffic congestion in urban areas, a cleaner environment and increased tourism opportunities across the province" (Government of Ontario, Cycle Action Plan 2.0, p.2).
A strong example of inter-ministerial collaboration
The Ministries of Transportation, Tourism, Culture, and Sport and Education were key stakeholders in Ontario's Cycle Strategy, and here's why: according to the Ministry of Tourism, Culture, and Sport (2018), cycling tourists not only spend more time in the province, they also spend more money. Cycling tourists spend $255 per trip compared to the average visitors $171 (The Centre for Active Transportation, 2012; Canada Bikes, n.d.).  Active transportation also makes a difference in the lives of students. "Research has shown that increased levels of physical activity lead to better academic achievement, better concentration, better classroom behaviour, and more focused learning. Other benefits include improvements in social and emotional behaviour, physical capacity, self-concept, and the ability to manage stress" (Ministry of Education, 2015, p.1).
A comprehensive approach, with tangible outcomes
The Ontario Cycling Strategy's strength is identifying the benefits of cycling experienced by different stakeholders and ministries. It also establishes what makes cycling successful, such as connected cycling networks, public education, and bicycle parking and storage. The comprehensive approach of this plan is demonstrated by the range of outcomes, including:
$25 million investment in municipal and provincial cycling infrastructure.
$3.5 million investment in the Ontario Active School Travel Project.
Design guidelines.
Stakeholder participation in a province-wide cycling network.
Legislative change to promote cyclist safety.
Provision of $380,000 towards bicycle skills training programs.
$150-225 million investment from Ontario's Climate Change Action Plan for commuter cycling infrastructure, bike parking and storage, and educational programs.
Way to break down the silos, Ontario!